Instagram's bios are normally treated as an afterthought. A few lines talking about your company. That's the first and biggest mistake. It isn't about you or your business. Your bio should be about why someone should follow you. Your IG bio is the first impression and is capable to turn visitors into followers and followers into customers. To help your brand put your best foot forward, I rounded up some ideas and examples about how to write an Instagram bio.
What to put on your Instagram bio
Optimize name section
The first step is to optimize your name. This is different from your user's name and is the key for Instagram SEO. So, this must include your brand name and the keywords. For instance, Belén Martí | SEO-Copywriter. If you want to rank well on searches from Instagram, it is crucial you use keywords relevant to your niche.
Bio
This is the challenging part. With just 150 characters, you have to tell your story and expound what I call it, your "niche statement". That's mean, explain what your business is about and the value you provide. That way, when someone lands on your profile, they'll be able to know what they are going to gain by following you. But before you start to write anything, you should have clear who are you trying to rich and how you can help them.
Extra detail
A great idea is optimizing the space you have and add an intentional detail. This could be a fun fact, an authority builder or content pillars. For example: Founder of @Teletrabajamos.es
Call to action
A lot of people forget to do it. If you are someone that's putting your link in your bio, you need to have a call to action with it as well. By having a clear CTA pointing to your link, you are assuring your audience that your link isn't sketchy or scummy. For example: "Learn how."
Links
Give your visitors the chance to know a little about your business, including a link in your bio. If you have many links, you can create a landing page and put all of them there.
Profile photo
It is important to use the same photo in all social media channels, because it is going to help people to find your profiles more quickly and also keeps brand coherence. Logos are always a good option, but if you want to use another photo, ensure that match and make sense with your niche. For example: if you are in the fashion niche, lifestyle photos are a great option.
Stories highlights
This allows you to save and categorize your stories. Otherwise, your stories ll be visible for just 24 hours. You just have to broke down your stories into categories highlights. For instance: FAQs, UGC, new products, events, news, campaigns, or blog. Then you just have to add a branded cover and done!
Add clickable links
The usernames or hashtags you add to your Instagram profile will also become clickable links. That means you can use your bio as a getaway for your visitors to discover related accounts or even a trending campaign hashtag. Moreover, you can create a branded hashtag with which your audience can share UGC.
Contact information
Business profiles give you the chance to add call-to-action buttons for different reasons: follow, book, shop and so on.
Business category
This is important because it is going to help new customers to find your business. How? By telling Instagram algorithm to display your business when people search in your niche and area. Thus, it is essential to be as specific as you can. If you have a restaurant, it is interesting to clarify what kind of food you offer.
Ideas for Instagram bio
Now you have an idea of what goes into crafting your Instagram bio. If you still feel a bit stuck, here are some ideas to inspire you.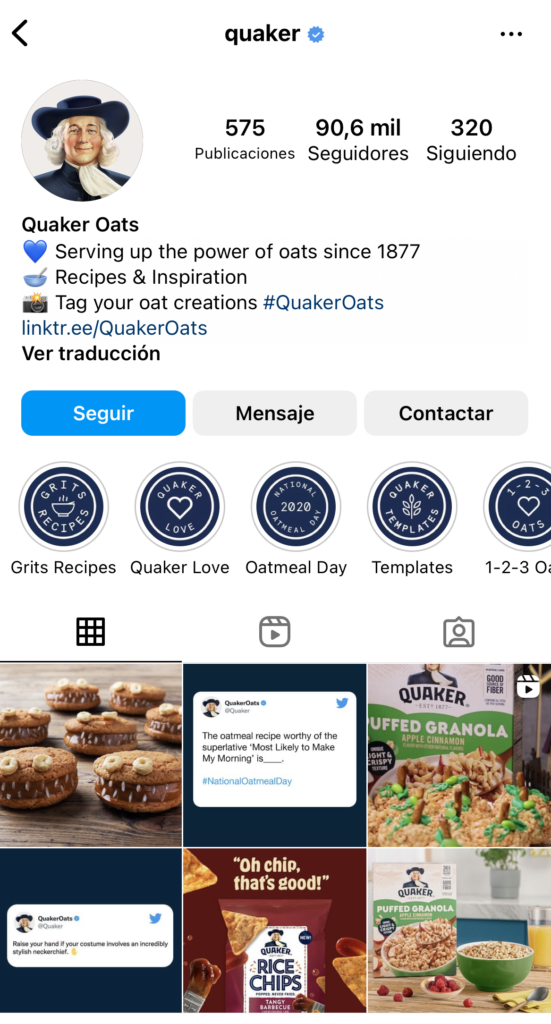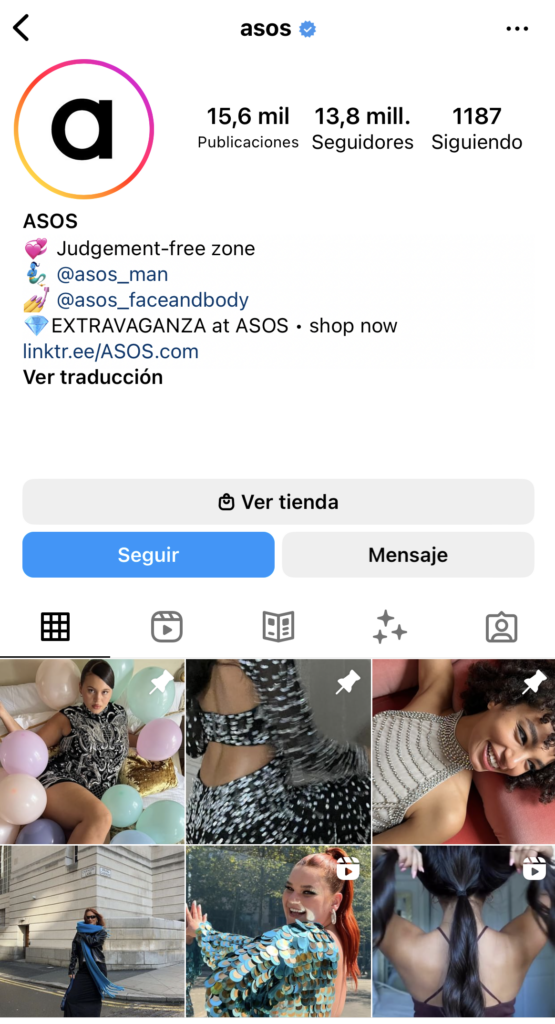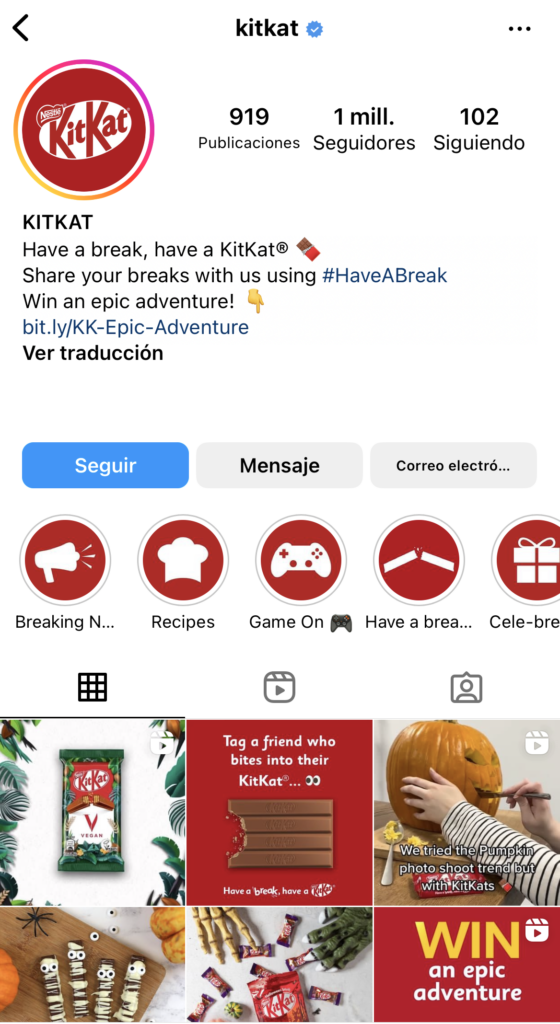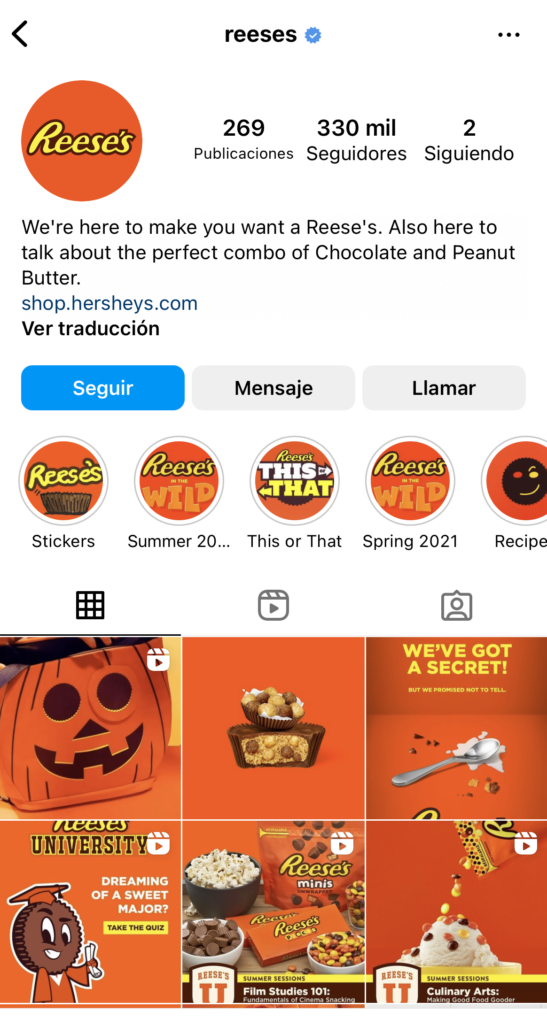 If you haven't updated your Instagram bio in a while, now's the moment to do it and turn visitors into followers!